I'm a huge fan of elaborate and detailed cosplays, complete with a full face of makeup, accessories and getting every little detail for the perfect photo. But, I am also a big fan of easy cosplays where I can keep things super simple, comfortable and not even have to wear a wig (since I always have trouble keeping them on my head, plus of how hot and sweaty it gets under there).
For your lazy cosplay moods or Sunday cosplay outfits, check out this perfect list of female characters to rock if you have black hair like me!
Kagome from Inuyasha
One of my favorite characters of all time is Kagome from Inuyasha! She's brave, strong, gorgeous, not to mention her outfit is also super comfortable. Let down your hair, put on the school uniform and you're ready to lounge or chill on the convention floor on a lazy con Sunday.

This beautiful Kagome cosplay (sold) is handmade by our very own Banditspurs. Check out her other intricate and cute cosplays below!
Kikyo from Inuyasha

Credit: WafflezCosplay
If we're talking about Kagome, how can we forget the graceful Kikyo. While we don't currently have a Kikyo on Coscove, we do have another miko cosplay available for grabs right now!
Isabela from Encanto

Isabela cosplay by me! I love this cosplay because of how flexible it is. I can go full wig, makeup and high heel shoe. Or I can go with natural hair and comfy sandals. The length of this cosplay is just right and hits me a little above my ankle which is why it can be dressed up or down with ease and look great in both cases.
I bought my Isabela from this maker and he also has a variety of other Encanto cosplays that they make at their studio.
Sailor Mars from Sailor Moon

Credit: Sailor Mars cosplayed by Sailor Samara
Also check out these Sailor Mars inspired costumes and sets currently available on Coscove
Yor from Spy x Family
Perhaps one of the most popular characters of 2022, Yor (and the rest of the Spy x Family crew) are making big splashes in the cosplay communities all over the country. I can't tell you how many cosplayers I knew/meet/talked have this cosplay or are planning on cosplaying this series.

Photo credit: Sherri Cui. Cosplayers: lovely folks we met at Yeticon
In case you need some wigs or accessories, these items from Yor are up for grabs.
Nezuko from Demon Slayer

Credit: Nezuko cosplayed by dzikan.art
Kanao Tsuyuri from Demon Slayer

This Kanao cosplay (for sale) pictured above is available for any Demon Slayer lovers out there.
Wei Wuxian from Modaozhushi/Grandmaster of Demonic Cultivation

This Wei Wu Xian (sold) costume and photoshoot from our own Simakai is absolutely stunning! Rated as one of the most popular Chinese historic drama of all time, MDZS (Grandmaster of demonic cultivation) has so many amazing outfits and characters to cosplay as. The best part, everyone has black hair!
Check out more of Simakai's other cosplays for sale. Her items are an absolutely steal!
Snow White from Disney

Credit: Snowwhite cosplayed by Nikita Cosplay
Chun-Li from Streetfighter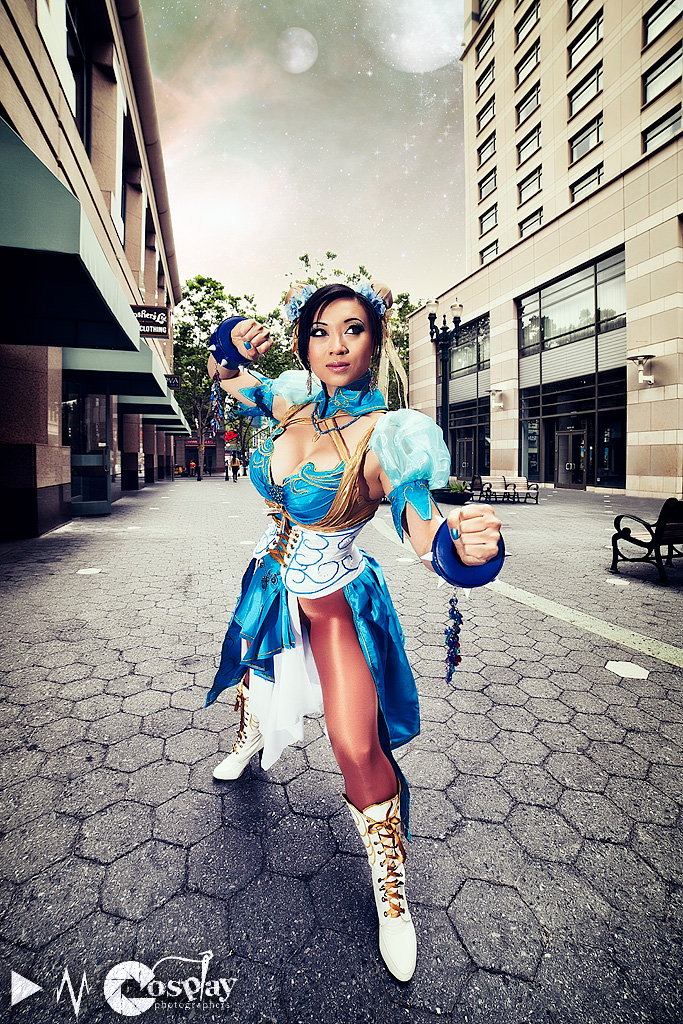 Credit: Chun-Li cosplayed by Yaya Han
Check out this costume on Coscove currently in search of the next Chun-Li!
Ishtar from Fate/Grand Order

Loki Laufeyson from Marvel

Credit: Lady Loki cosplayed by lady-narven
Mai from Avatar the Last Airbender

Credit: Mai cosplayed by TheWisperia
Morgana from League of Legends
Morgana cosplay (for sale)
How can we forget Morgana from League of legends? She has quite the coiffure that's elaborately wisped, so you may not be able to go in your natural hairdo. But for anyone interested in cosplaying someone with dark hair, Morgana's outfit, makeup/hair, and wings make her such a stunning character to dress as!
Nozomi Tojo from Love Live!

Nozomi cosplay (sold)
While the lovely cosplay above has found a new home, these various versions of Nozomi are still in search of a new owner. Check them out below!
Dia Kurosawa from Love Live!

Dia Kurosawa (for sale)
This cosplay will also work for any miko characters like Kikyo from Inuyasha!
Yukari from Paradise Kiss

Credit: Yukari cosplayed by Freyia-hime
If you're into elaborate dresses like me, then Yukari is the perfect person to cosplay. This award winning Yukari from our own Akanesaotome is now available!
And there you have it, the ultimate list of characters to cosplay if you have black hair or dark hair. Did we miss any of your favorites? Let us know! We'd love to hear from you. Join our discord for cosplay help, opportunity sharing and a supportive community: https://discord.gg/H5UknnGXFd

Mengshu is a co-founder of Coscove. Growing up in Canada, Mengshu loved theatre, dance, and all things photography. She did photoshoots in costume before even learning what cosplay was! Find her on Coscove: coscove.com/mengshus